Bai Tu Long Bay
Bai Tu Long Bay
Introducing Bai Tu Long Bay
Bai Tu Long Bay and HaLong Bay are located in the region recognized as a world natural heritage. Bai Tu Long Bay includes a sea of Ha Long City, Cam Pha City and Van Don Island District. The South-West borders HaLong Bay, the East is adjacent to the sea, the West is adjacent to the mainland with Cam Pha City and the Northeast is adjacent to Co To Island District. Bai Tu Long Bay consists of hundreds of islands, large and small, and many of them are large and populated. If HaLong Bay is a beautiful girl, Bai Tu Long Bay is a pristine, enchanting girl.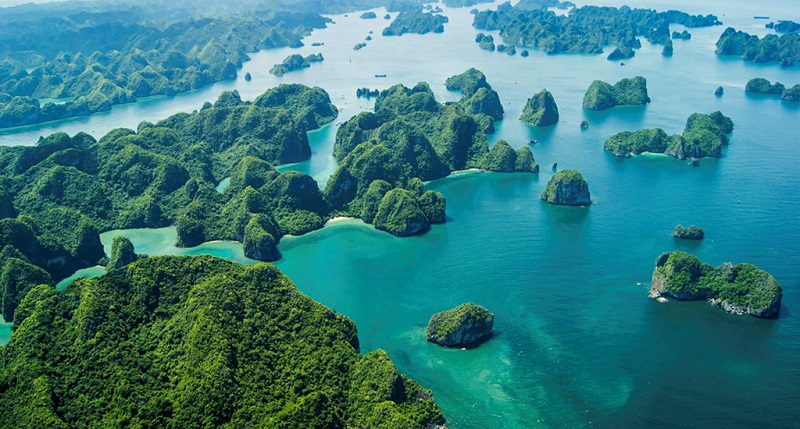 Bai Tu Long National Park has been selected as one of the representative areas of marine conservation in Vietnam. According to the survey results recently selected by customers of Gecko Travel Ecotourism Company (UK), Bai Tu Long Bay of Vietnam has reached the "top 5" of the most wonderful tourist destinations in Southeast Asia.
Bai Tu Long Bay imprinted Ha Long culture thousands of years ago and also retains the pristine features of an archipelago in the wild. With beautiful islands and long white sandy beaches, Bai Tu Long Bay is increasingly attracting foreign visitors. Especially, Bai Tu Long ecological area of Van Don island district stretches over an area of 100 ha, with over 10 km of coastline, eco-tourism area is built on the basis of harmoniously combining traditional Asian architecture with modern western style. The self-contained stilt houses, close to the sea create a sense of closeness to nature, erasing the boundary between the noisy and bustling modern world with immense sea. The life of Van Chai with the legend of the sea and enjoy the specialties of the sea such as cobia, grouper, shrimp, crab, mussel, comedy, snail jump, squid ...
The islands of Bai Tu Long have the form of limestone island and schist island, which is an ancient image of the terrain of geological tectonic age about 300 million years, due to the process of lifting and lowering many times from continent land into a sea basin. The process of erosion and weathering creates a special form like a picture of a desert created from the sea and islands. On the stone islands of the Bay, there are also cave caves, especially Quan Cave (Naval Cave) that people use as a shelter for old boats during rough seas. Other well-known islands and island clusters such as Ky Jumping, Ky Gia, Vang Vang, Hon Chong, Hon Van Don, Hon Nhon, Ba Sao and Chan Nghia mountains are also attractive points for discover. In addition, there are many land islands in Bai Tu Long Bay, so there are many people living, raising and cultivating such as Quan Lan, Minh Chau, Ngoc Vung, Dong Coc, Golden Card ...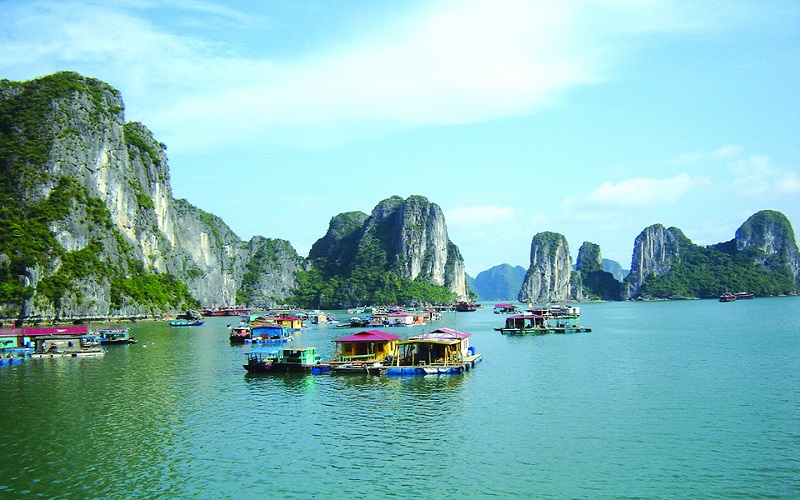 There are also many legends related to the history of HaLong Bay - Bai Tu Long Bay. And that story reflects the history of building and maintaining the nation of Vietnam for thousands of years. According to the legend, "When the ancient Vietnamese people were established, they were invaded by foreign invaders. Ngoc Hoang sent a Mother Dragon to bring a group of baby dragons to the lower world to help the Vietnamese fight the enemy. When the enemy boats from the sea came ashore, the Dragon herd had sprayed countless pearls and quickly turned into thousands of stone islands on the sea, creating a strong wall to block the advance of the enemy boat. The enemy fleet was rushing fast, suddenly blocked and stabbed into stone islands or crashed into each other. After the invasion, the Mother Dragon and the Dragon Dragon did not return to heaven but stayed in the lower realm where the battle took place. The position of the Mother Dragon came down to Ha Long and the Dragon descended to Bai Tu Long. Dragon tail tail waving white water is Long Vi (Tra Co peninsula today) with fine sandy beach and more than a dozen kilometers long "...
Beautifull view in Bai Tu Long Bay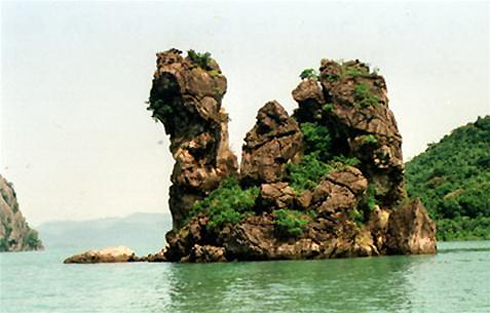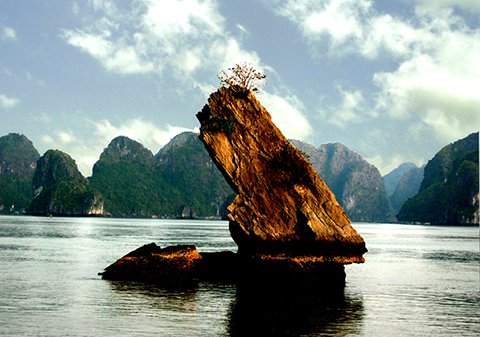 According to statistics, Bai Tu Long Bay has hundreds of limestone and sandstone mountain islands with many famous landmarks such as Bai Tho Mountain, Con Coc Island, Tien Ong Island, Con Rua Island, Dam Oan, Hon Mat Dem, Con Co Islet, Thien Canh Son Cave, Tam Cung Cave, Dong Me Cung Cave .... The island system has a high island - a low island bobbing on the water surface with hundreds of kilometers of coastline creating a spectacular landscape but no less romantic. With that location, Bai Tu Long Bay has many beautiful beaches such as Con Co Beach, Van Don Beach, Bai Quan Lan, Bai Chau Chau, Co To Beach ... All of the above beaches are kept intact. untouched and pristine definition of nature.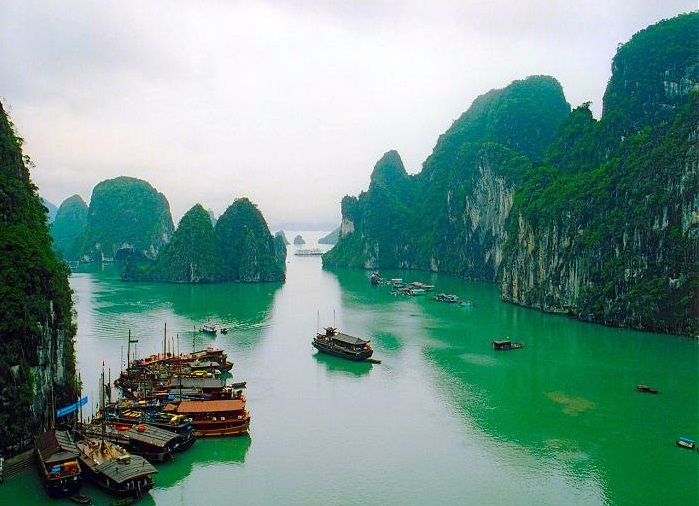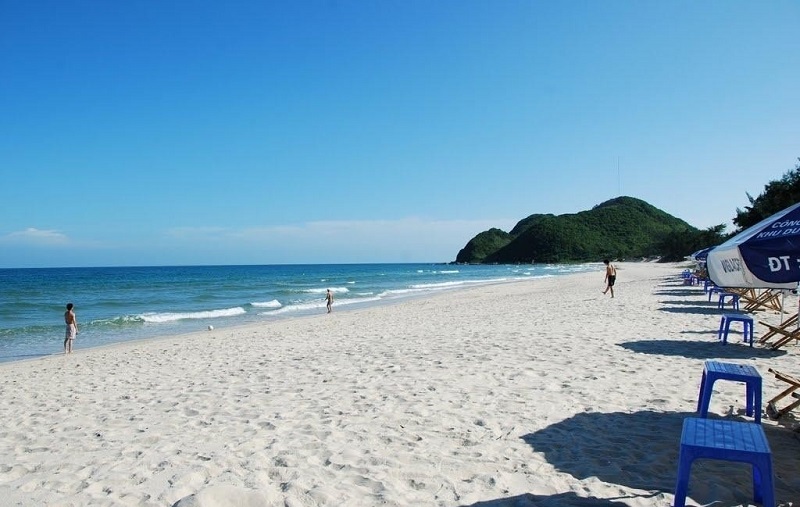 In addition to the beauty of nature, Bai Tu Long Bay also attracts tourists by the famous specialties of the region such as: Sa Sung - A very famous and highly economic sea worm. In addition, there are many famous seafood with high economic value such as cobia, grouper, comedy, shrimp, crab, cuckoo (like crab but much better), mussels, snails jumping, squid ... These are also memorable dishes, adding to the attraction of your exciting journey of a tourist area still awakened ... So the above destinations are increasingly being chosen by many tourists. choose for your vacation, especially the young people who have a hobby of finding wildness and simplicity.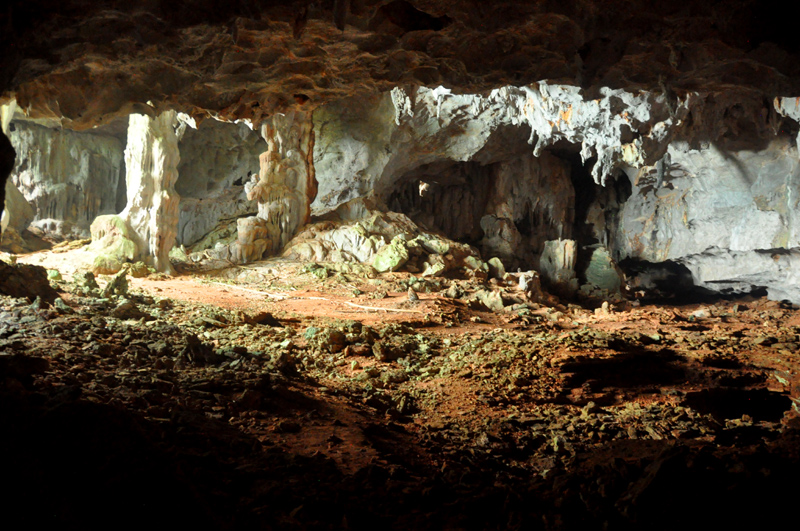 Signature Halong Cruise is the best luxury Wooden Cruise in Halong Bay - Viet Nam.
Today, Bai Tu Long Bay is a favorite cruise of many Halong cruise ships, favored by many tourists thanks to the peaceful and majestic beauty. If you want to visit and stop here, just book the yachts with 2-day or 3-day journeys.
Let Signature Halong Cruise guide you to one of the most wonderful experience in life.
➖➖➖➖➖
FREE CONSULTATION 24/7
☎ Tel: 024 39276999
Line Hotline: (+84) 96244 7486
🌏 Email: support@signaturehalongcruise.com
: Address: 4th Floor, No. 1 Dinh Le, Trang Tien Ward, Hoan Kiem District, Hanoi
📲 Website: signaturehalongcruise.com