HaLong 1 Day
Halong 1 day with Halong Sen Cruises - Halong bay cruise
Halong Sen Cruises is a trademark belonging to Signature Halong Cruise - Athena Group, an exquisite five-star luxury cruising brand in Halong Bay. Launched on December 9th 2017, the brand new Halong Sen Cruises is a delicate work of art catering for guests who wish to discover the core beauty of the world natural heritage site without abundance of time. Halong bay Tour in one Day.!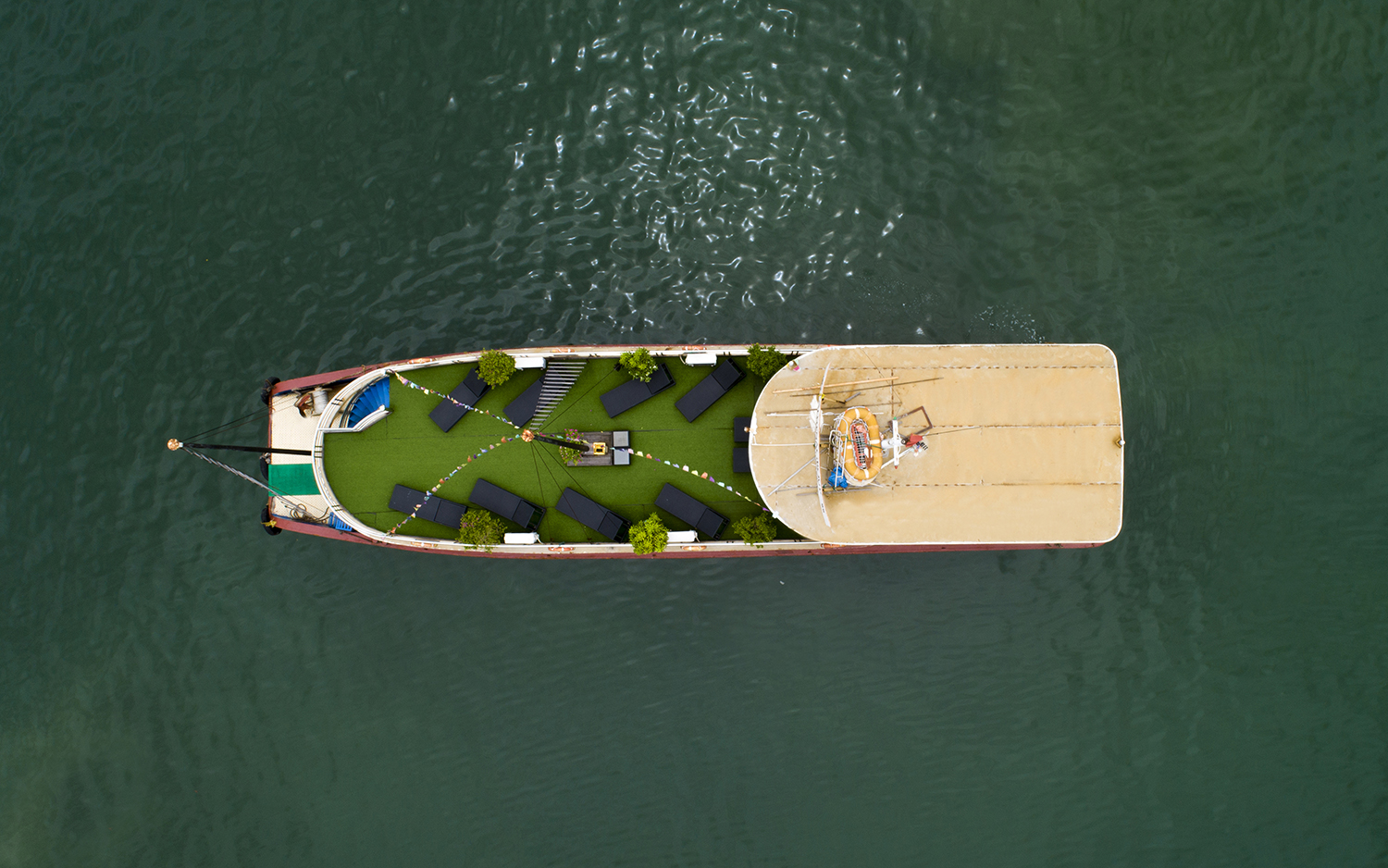 Why choose Halong Sen Cruises - The best Halong Bay Cruise - Halong 1 day
Halong Sen is a new nice steel boat, meticulously designed for your supreme enjoyment and your ultimate safety. Inspired by gracious charm of Vietnam's national flower, the boat features a flawless blend of traditional and contem-porary cruising concepts with images of the pure lotus infused in the fine design of every conrner on board. There is nothing but exceptional experience when cruising with Halong Sen as you indulge your eyes with spectacular landscapes and satisfy you taste to the fullest with the best of Vietnamese cuisine. Our carefully selected menu will evoke your appetile with the most delicious dishes cooked from lotus and freshest local-sourced ingredients.
Not only dining but also the experience of onboard activities will surpass your expectations to redefine a luxury adventurous day trip. For those with a limit-ed time budget, our cruise is a perfect choise to quench your thirst for explora-tion as all highlights of a normal 2 days 1 night program are included in our unique itinerary.
Our cruise also provides a variety of exciting activities right on the boat, making your trip way beyond your satisfation.
With Halong Sen Cruises, your trip to the legendary world heritage site will be an impeccable memory you crave for in your whole life. With Halong Bay Tour one Day.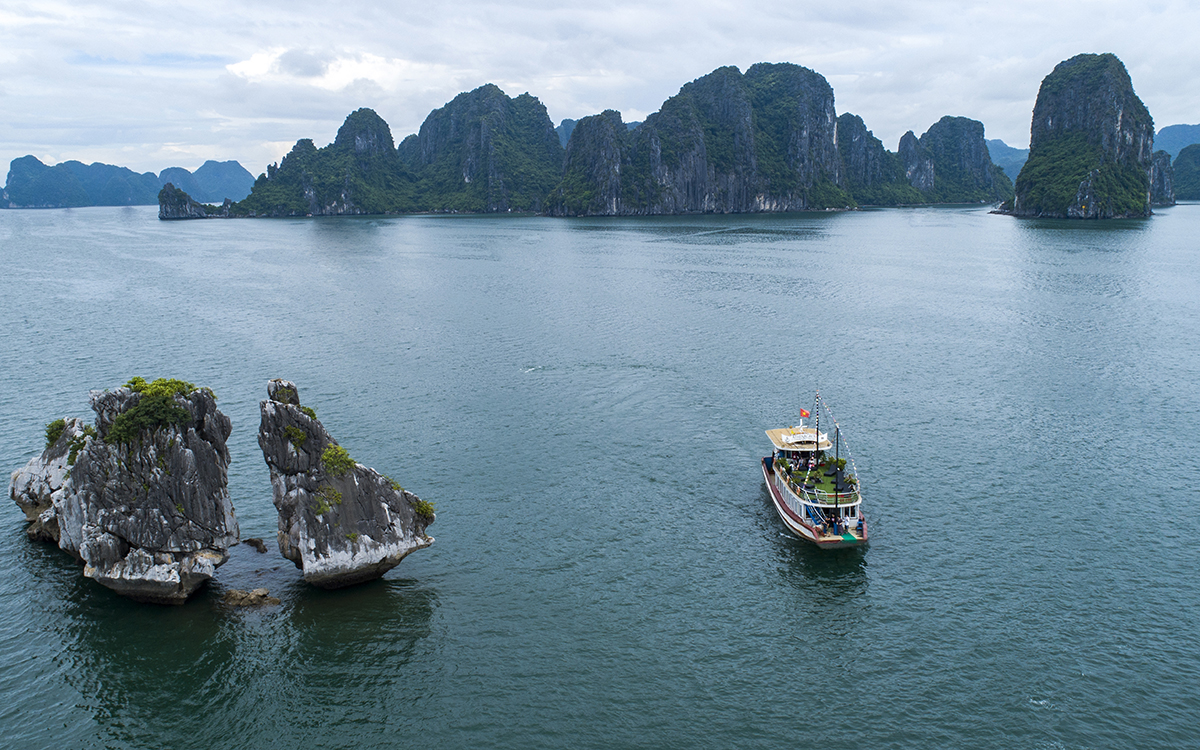 Restaurent on Halong Sen Cruises
With our hands-on coooking class, you have chance to learn some fine culinary skills and discover the secret of Vietnamese cuisine with expert guidance from our professional chef. Lotus tea with aromatic flavor and candied lotus seeds are ready to serve for your enjoyment, and for those who wish to master the art of making a cup of elegant lotus tea, a nice demonstration is avaiable for you.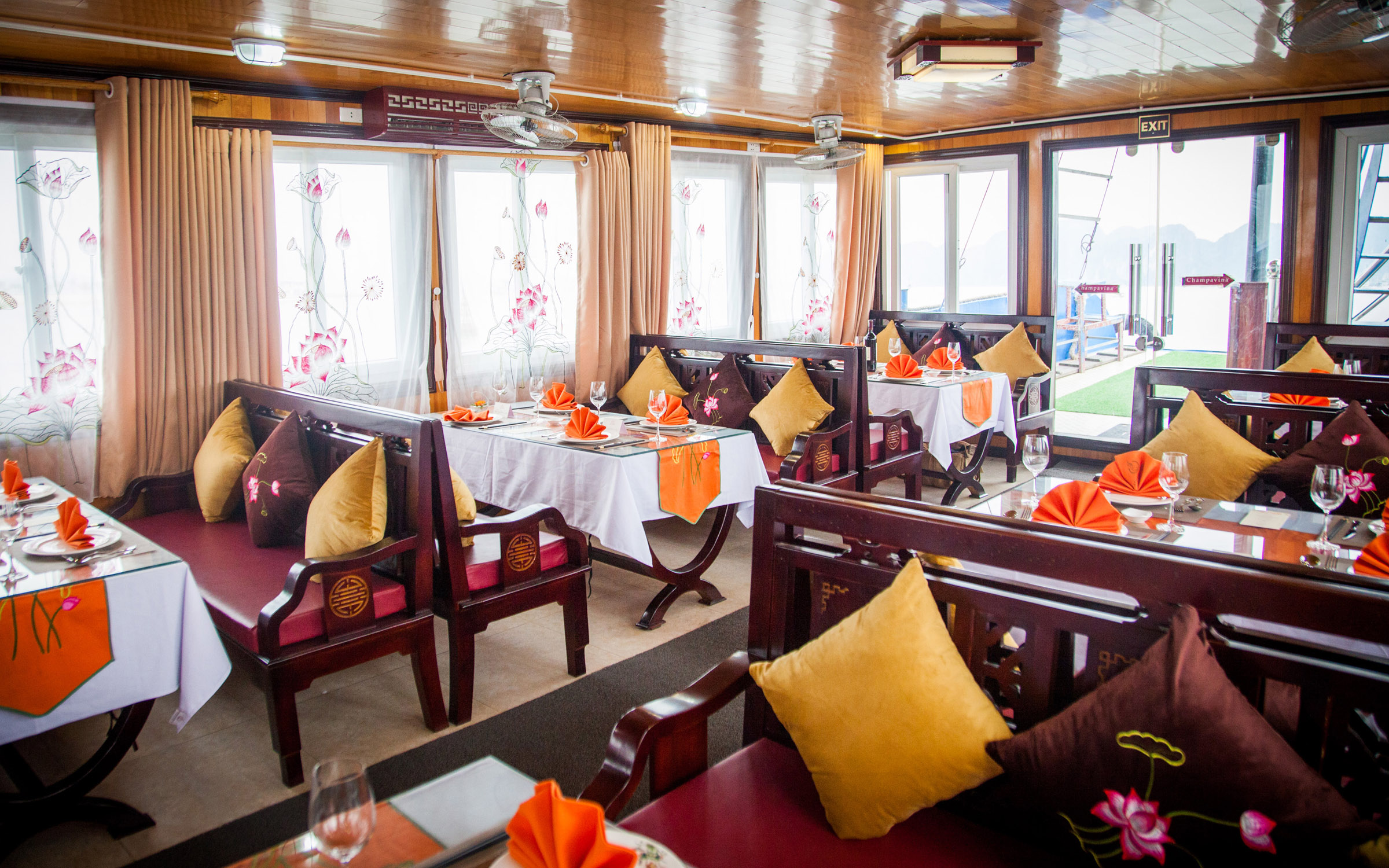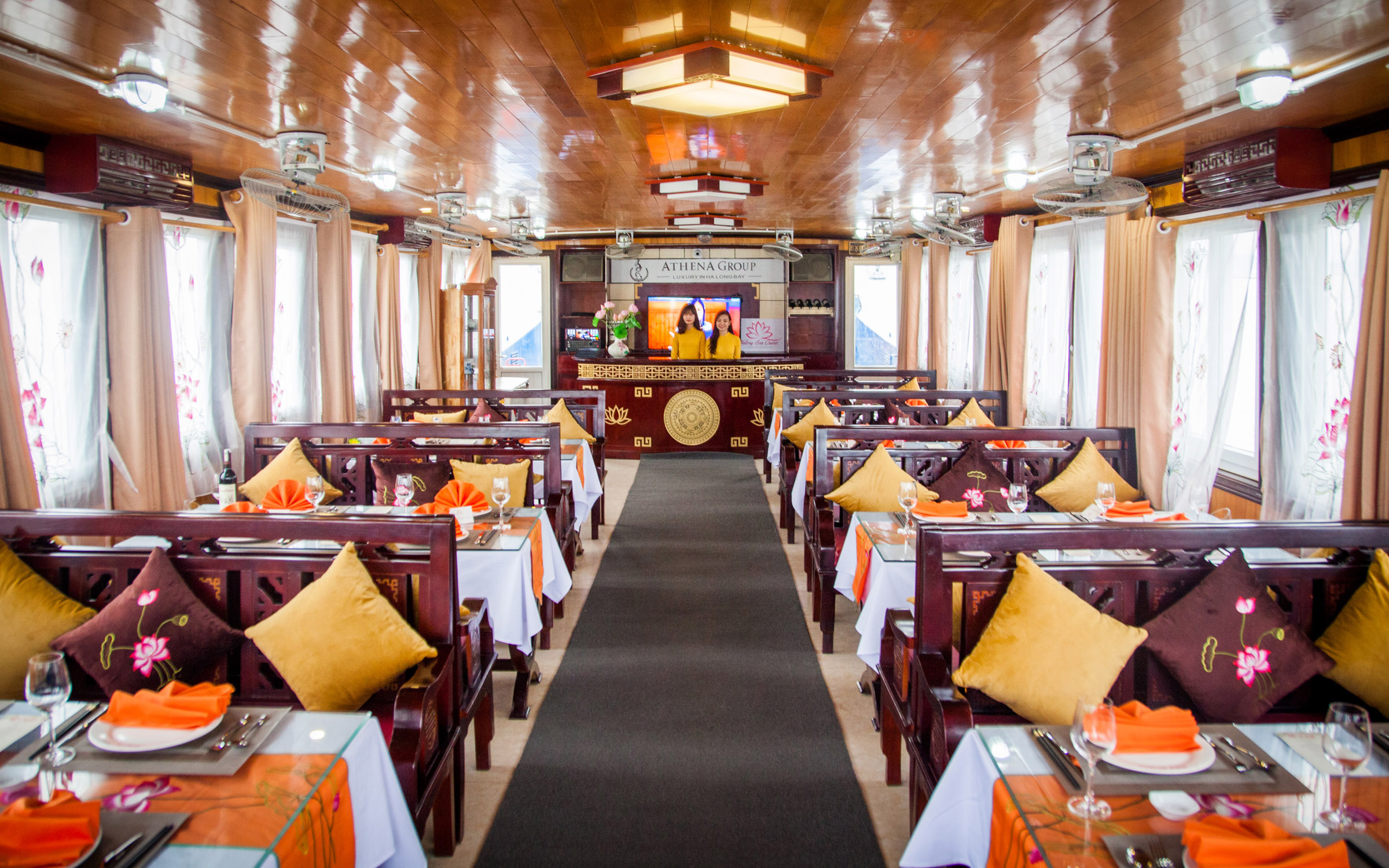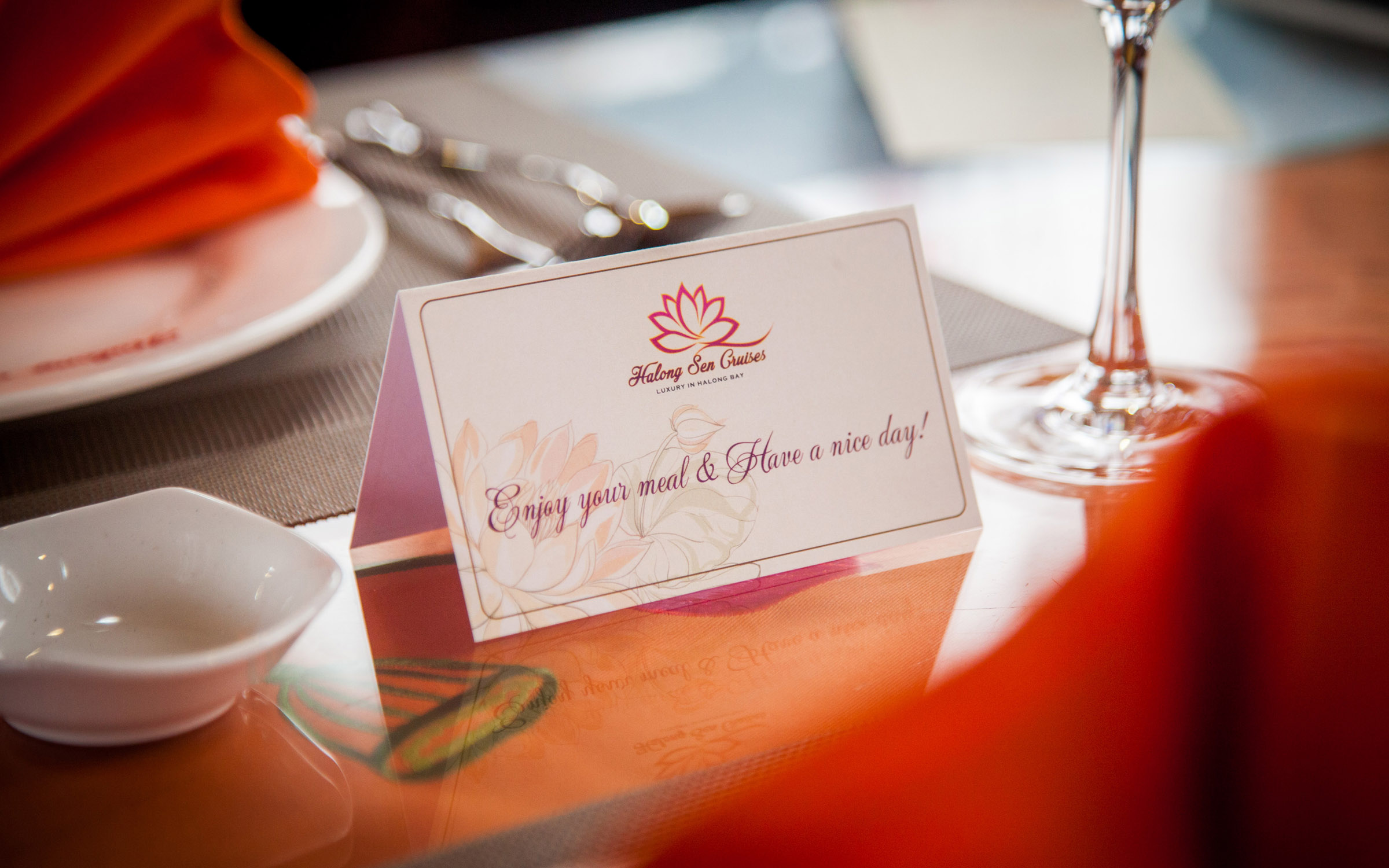 Acitvities with tour 1 day in Halong Bay
Discovery Cave
Discover a mysterious acvient cave hidden beneath wild forest canopy and naturally chiseled stone. Explore the three vast caverns of Then Canh Son Cave, a real-life dream world filled with age-old stalagmites, stalactites and serreal rock forma-tions, moment of it and even a blink will cause you a deep regret.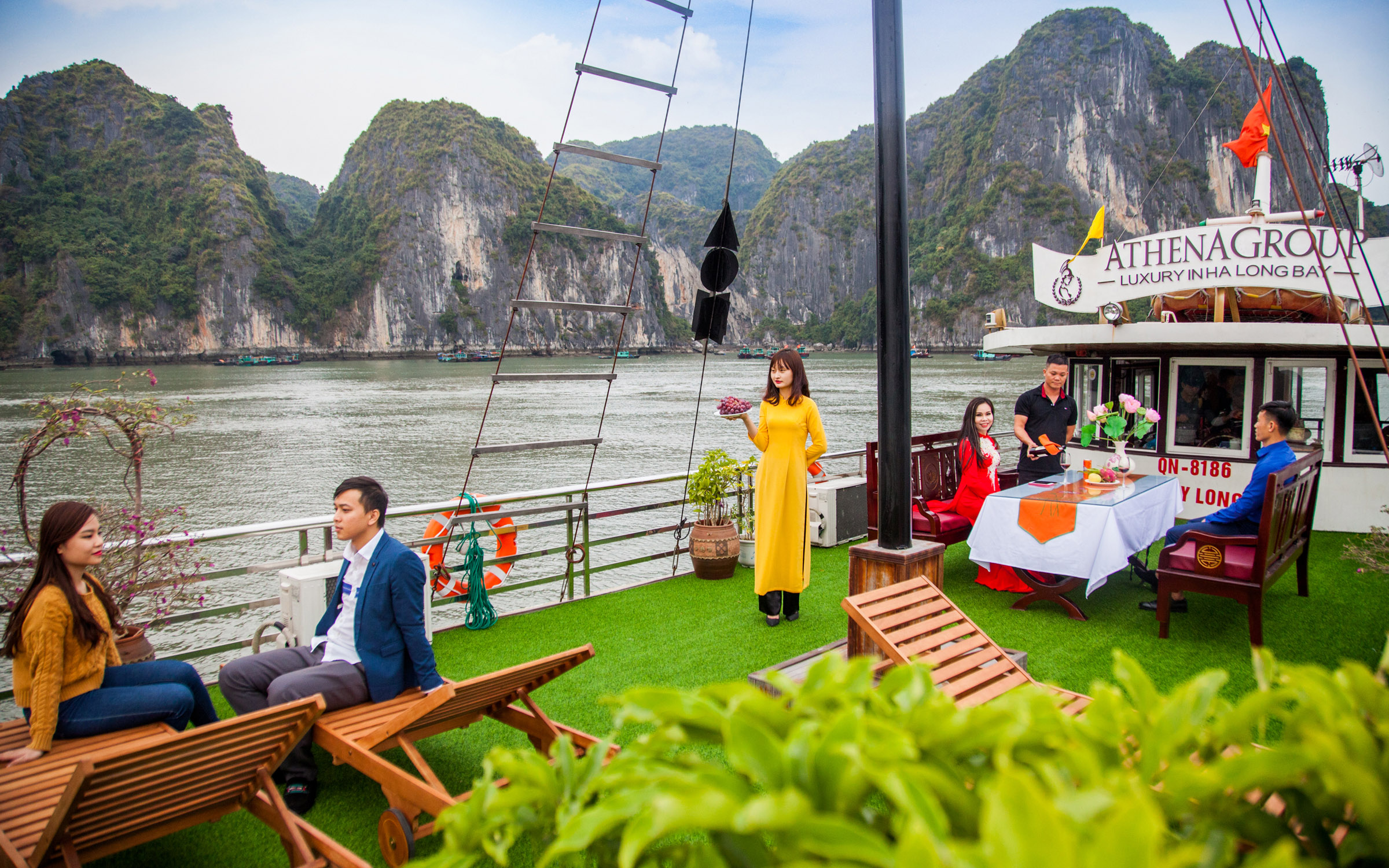 Kayaking in Halong Bay
We offer kayak service for you to exlore the beauty of Halong Bay to the fullest. Kayaking around Vung Vieng Fishing Vilage will be an experience of you life time that you can't get any-where else!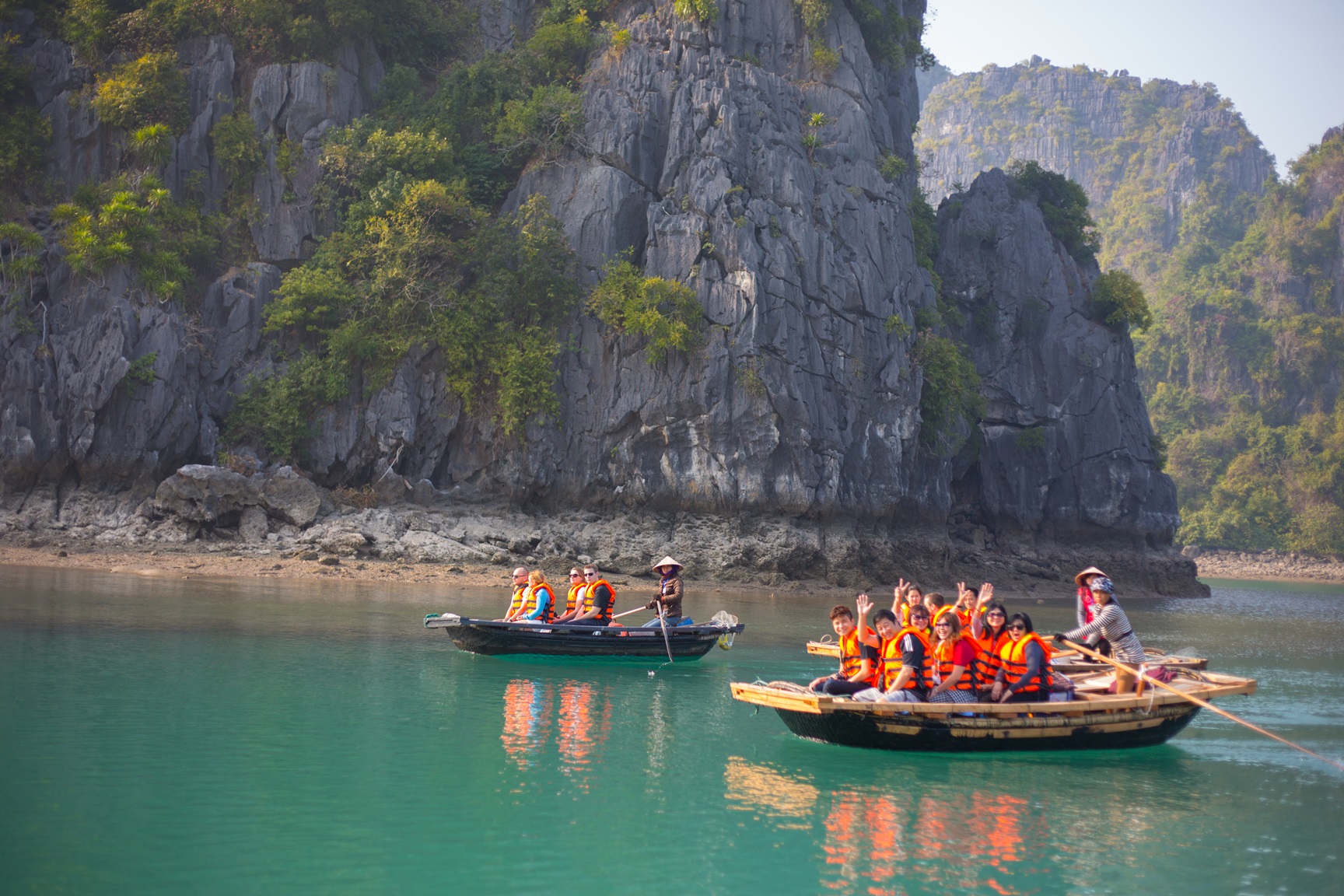 Floating Villiage with Halong Bay Tour
Get a taste of local culture with a traditional bamboo boat trip to the isolated floating village of Vung Vieng. Learn more about this peaceful community as you sail by the only school, the village's museum and the modest floating homes that have housed generations.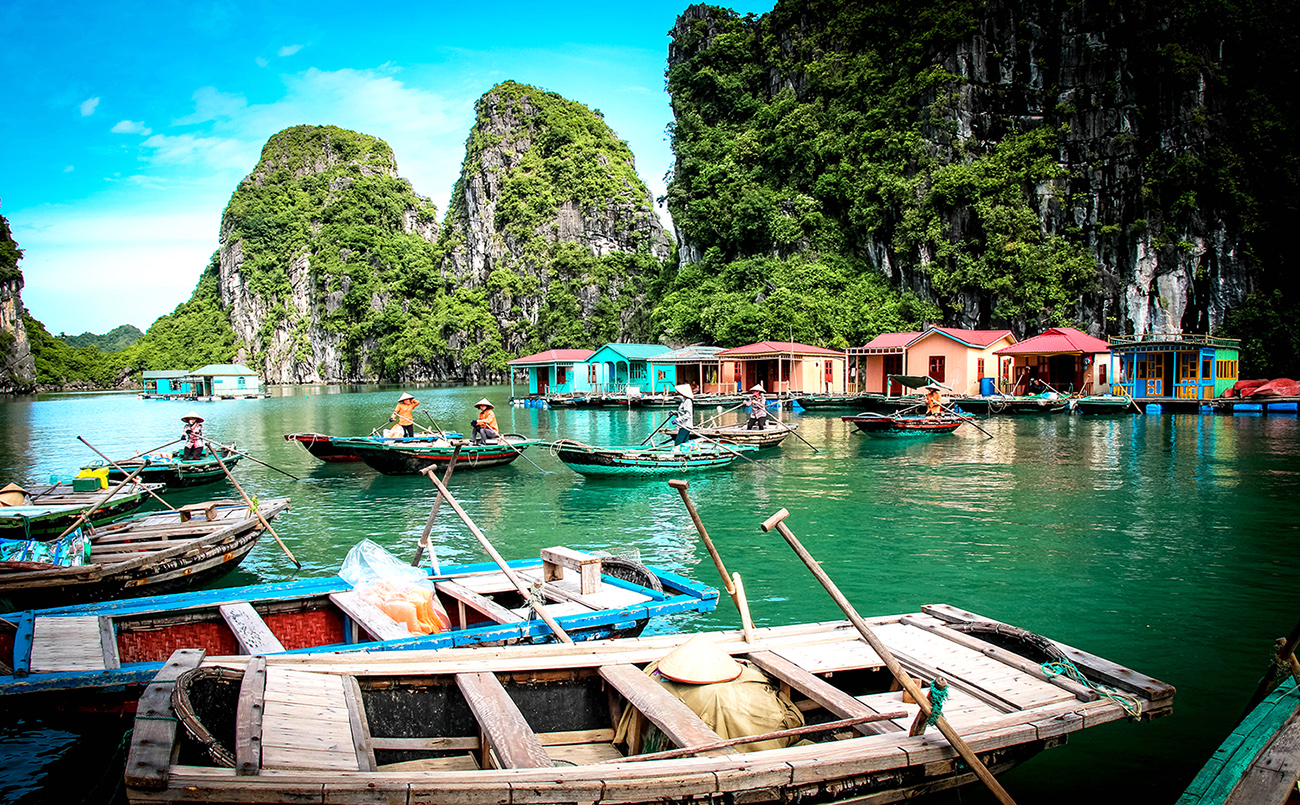 Coooking Class on Halong Sen with Halong Bay Tour
Hve a good time with your beloved ones while getting a taste of traditional Vietnamese cuisine, one of the most varied and seductive on the planet. Lear more about local ingredients and flavors making the distinction of delicious spring rolls, best-known dish in Vietnam with expert guidance from our chefs. Earn yourself the master recipe and enjoy your final result!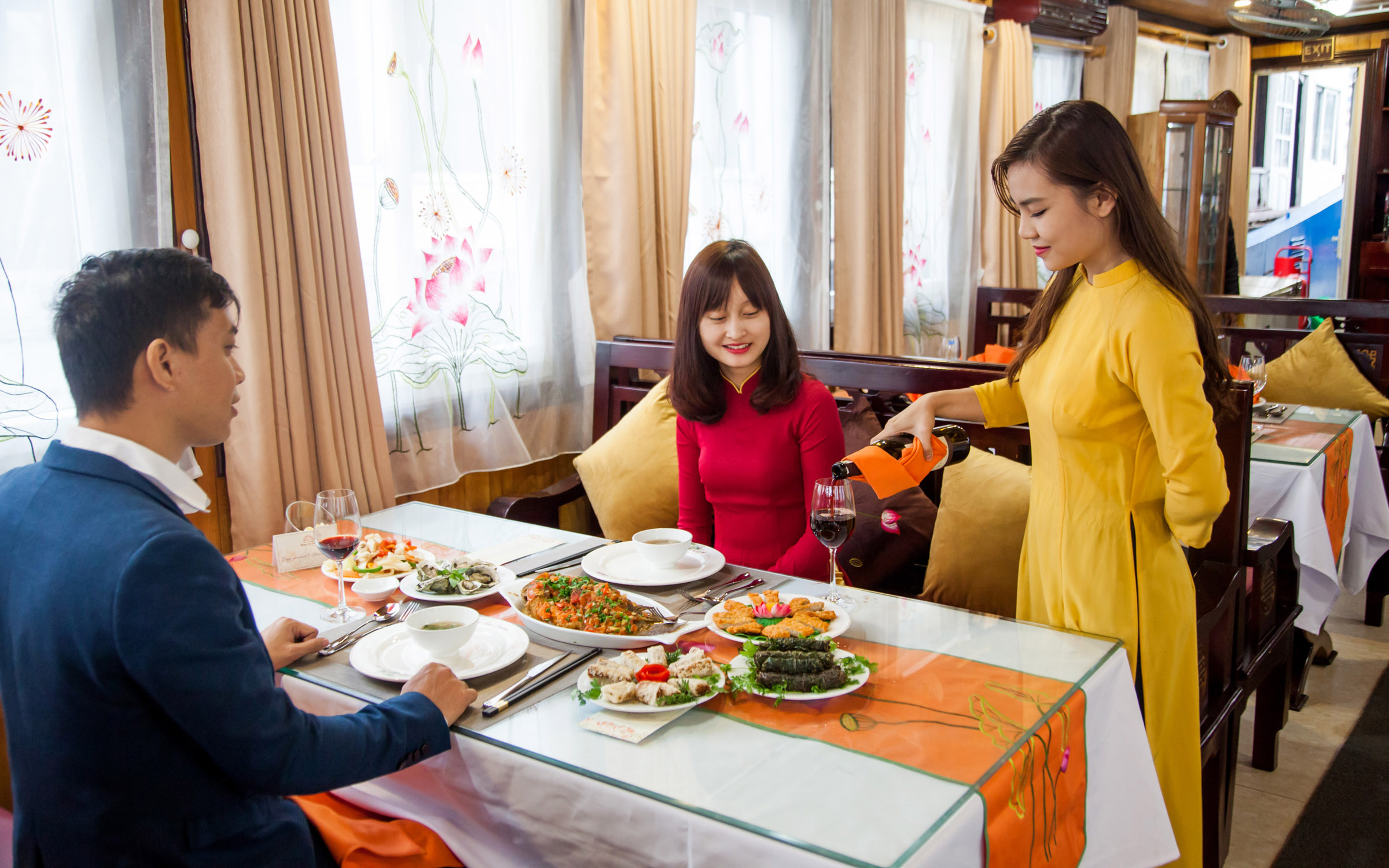 Lotus Tea on Halong Sen - Halong bay cruise
What could be more enjoyable than supping a cup of elegant lotus tea seved with fine candied lotus seeds white being embraced be romantic and enchanting landscapes of the ancient bay? The quintessence gift from Vietnamese cuilture will delight your taste buds with a flawless combination of subtle butterness from tea and gracious sweetness from candied lotus seeds. Not only the taste, your sense of smell will be indulged with lovely sweet aroma of lotus tea as it is scented with be indulged with lovely sweet aroma of lotus tea as it is scented with luscious fragrance of pure lotus blossoms. Making a cup of noble lotus tea is also a work of art requiring skills to achieve it's exquisite taste. That's why you need the help from our master who will deliver a beautiful demonstration on how the art is made. Come and experience, you will fall in love with every moment of it! Halong bay cruise.!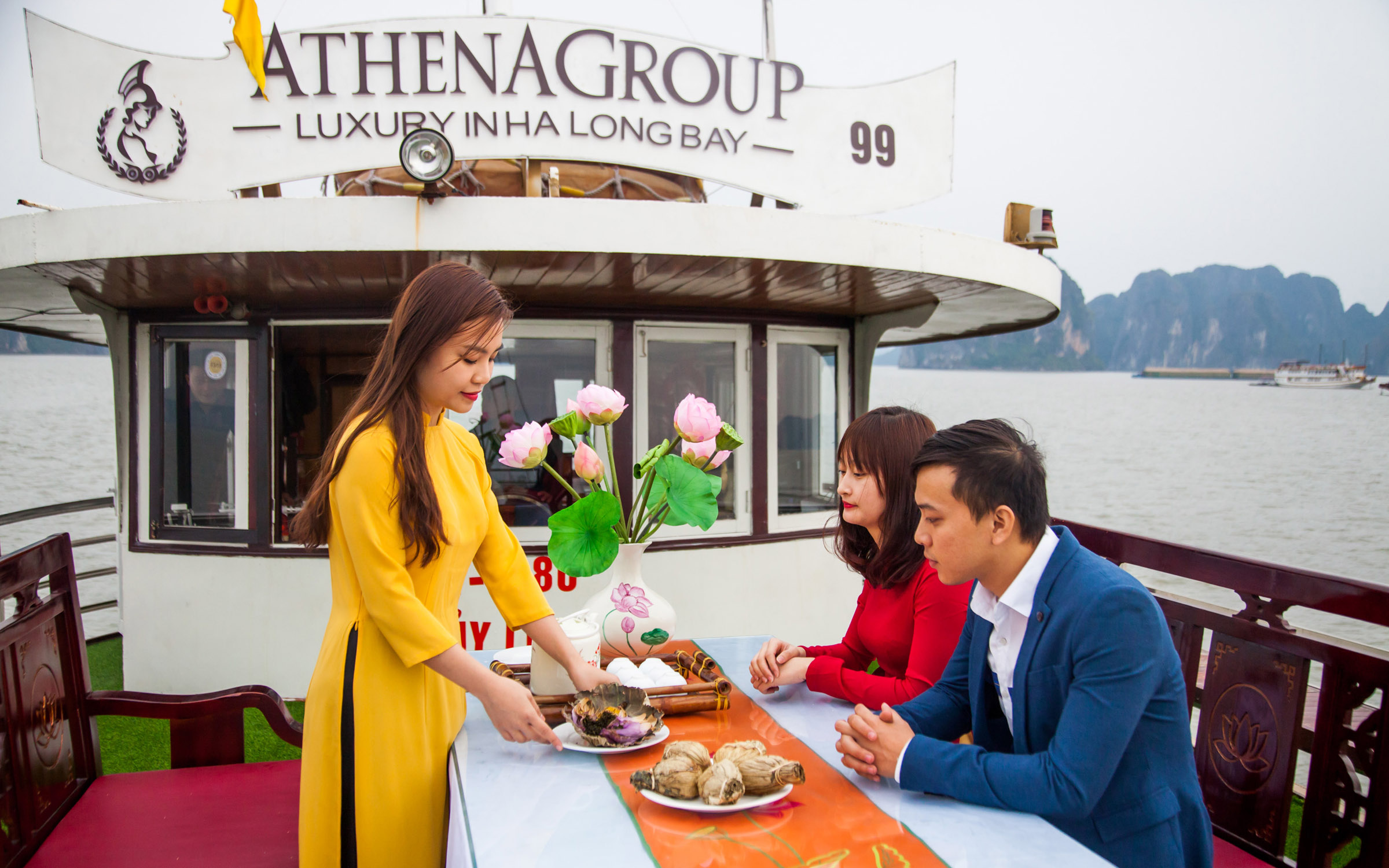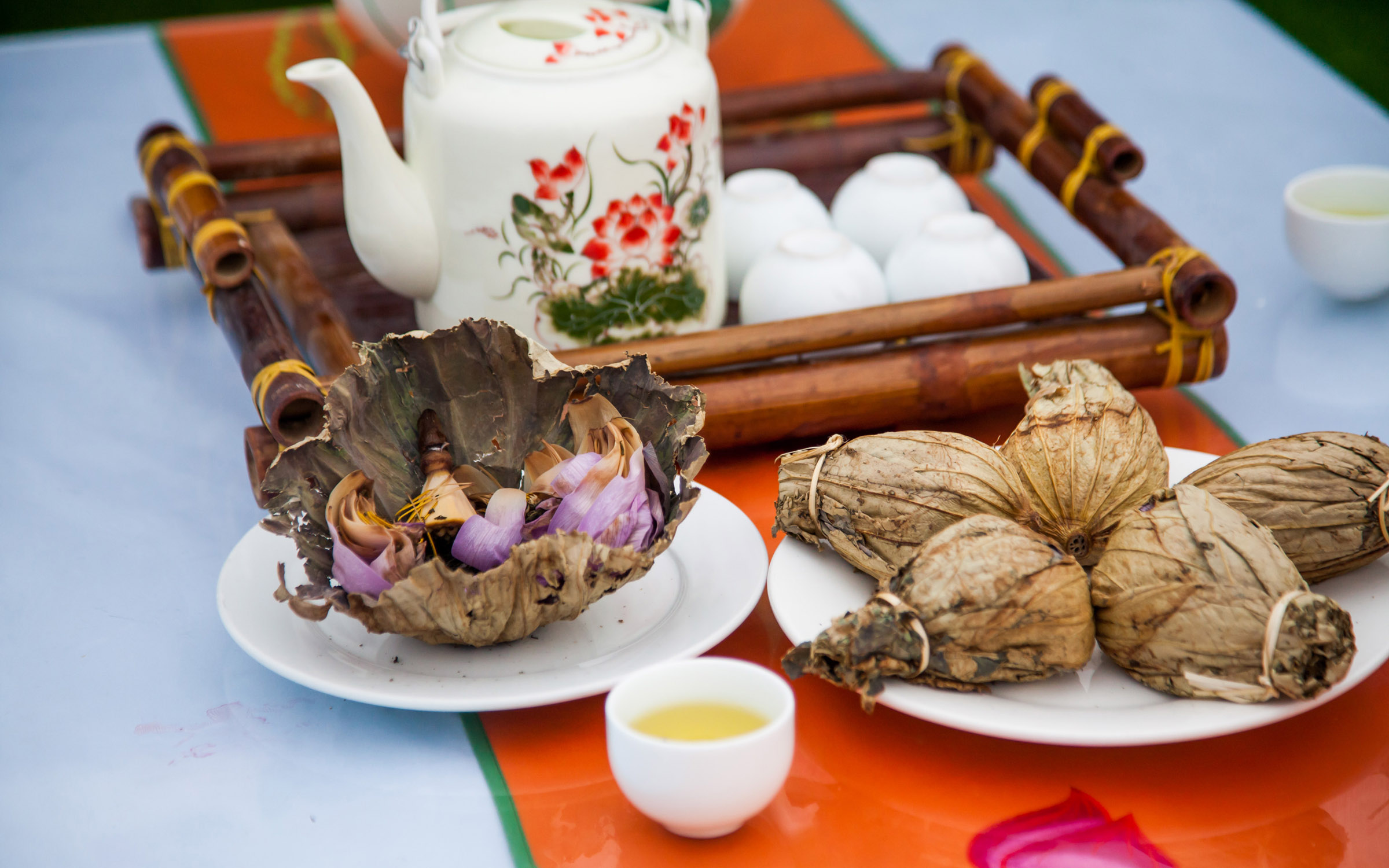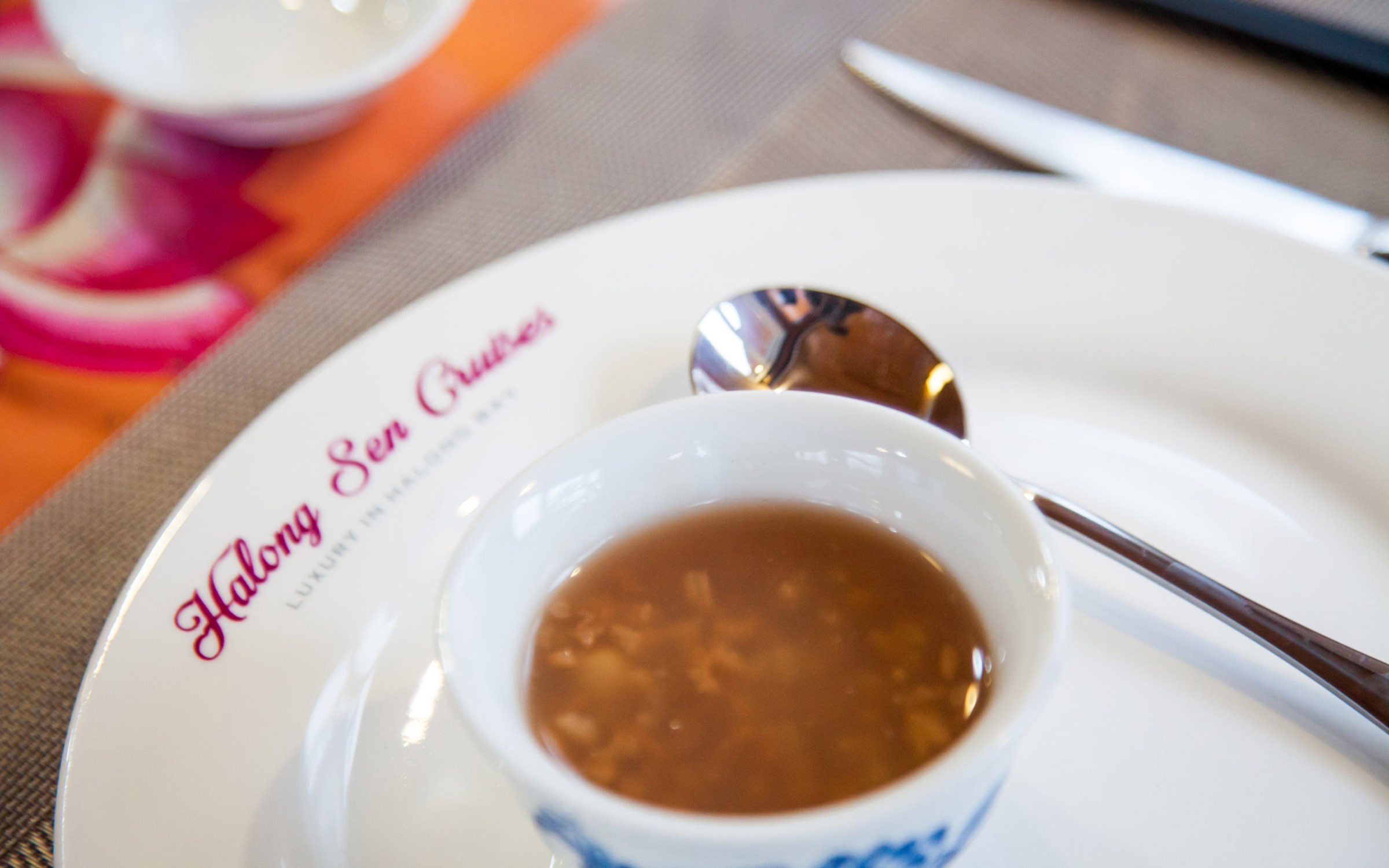 Exploring the beauty of Ha Long Bay with 1 day itinerary
08 - 08.30: Pick up at hotel in Hanoi Old Quarter (for guests booking transfer services provided by Halong Sen Cruises)
10.00: Have a break en-route at a Rest Stop in Hai Duong City. Relax, have a cup of tea or coffee, or take a look around the arts and crafts center within 25 minutes. It is also time for our driver to take a short rest after 2 hours driving in order to ensure the safety of the trip.
12.15: Arrive at Tuan Chau Harbor. Check-in and embark on our cruise. The cruise leaves Tuan Chau Harbor for an incredible trip to explore the beauty of Ha Long Bay.
12.30: Lunch is served with Vietnamese traditional specialties while cruising towards Hoa Cuong area. Along the way, enjoy extraordinary scenery of thousands of limestone islands and islets in Ha Long Bay such as: Dog Rock, Duck Rock, Fighting Cock Rock, Lu Huong Islet. Camera should be well prepared to take amazing pictures at these places.
14.00: Arrive at Hoa Cuong area, one of the most beautiful corners of Ha Long Bay. Surrounded by majestic limestone mountains, Hoa Cuong presents to you a mysterious world with wild and gracious beauty. Just like a sleeping princess, it is waiting for you to wake up.
Especially, you will see an a beautiful limestone islet rising from sea water in the shape of a giant thumb, which is then called Thumb Rock. Mother Nature has put Thumb Rock here to send a message of goodness to every passenger cruising in Ha Long. Camera should be well prepared to take amazing pictures of this place.
14.30: The cruise heads towards Ba Hang area, formerly known as Ba Hang fishing village but now villagers have moved to another area. Exploring the hidden charm of the gorgeous Ba Hang in 45 minutes by kayaking
15.15: Back to Halong Sen Cruises and continue the exciting trip to the next stop.
15.30: Arrive at Thien Cung cave, one of the most beautiful caves in Ha Long Bay. Together with our best guide, you will explore this unique and magnificent museum of natural arts elaborately created by the magic hands of Mother Nature.
On the way back to harbor, you will be participating in a cooking class to make fresh spring roll demonstrated by our chef on the sundeck. You also have chance to enjoy Vietnamese lotus tea served with delicious candied lotus seeds. The lovely subtle bitterness of the tea and the nice elegant sweetness of candied lotus seeds mingle in a perfect way, creating an unforgettable taste lingering in your mouth. Delicacy, elegance and sophistication of the two specialties make Vietnamese people proud of their own unique culture. Also take the chance to learn how to make the tea in traditional way through a nice demonstration from our expert.
17.00: The boat arrives at pier. End of the itinerary and transfer back to Hanoi.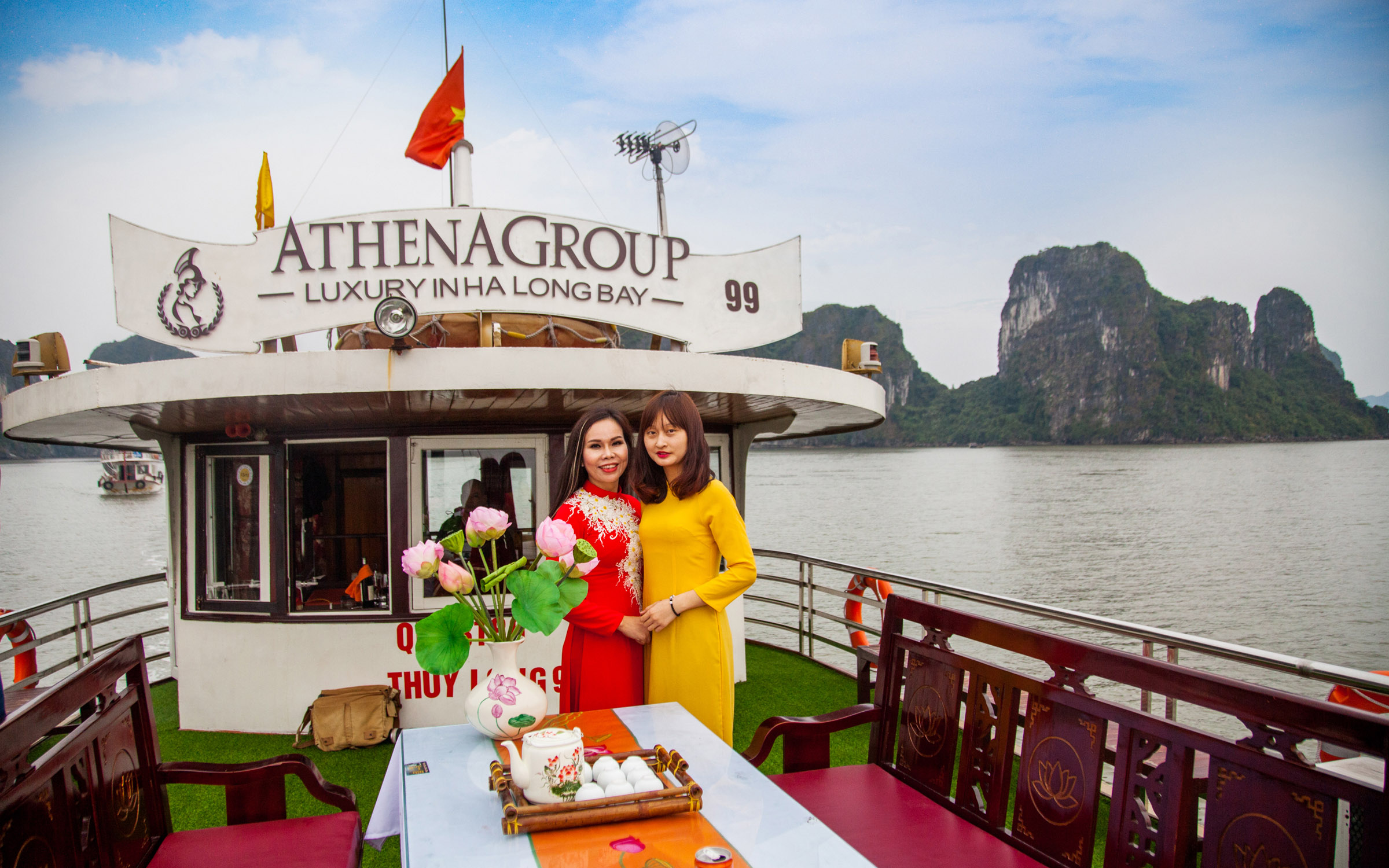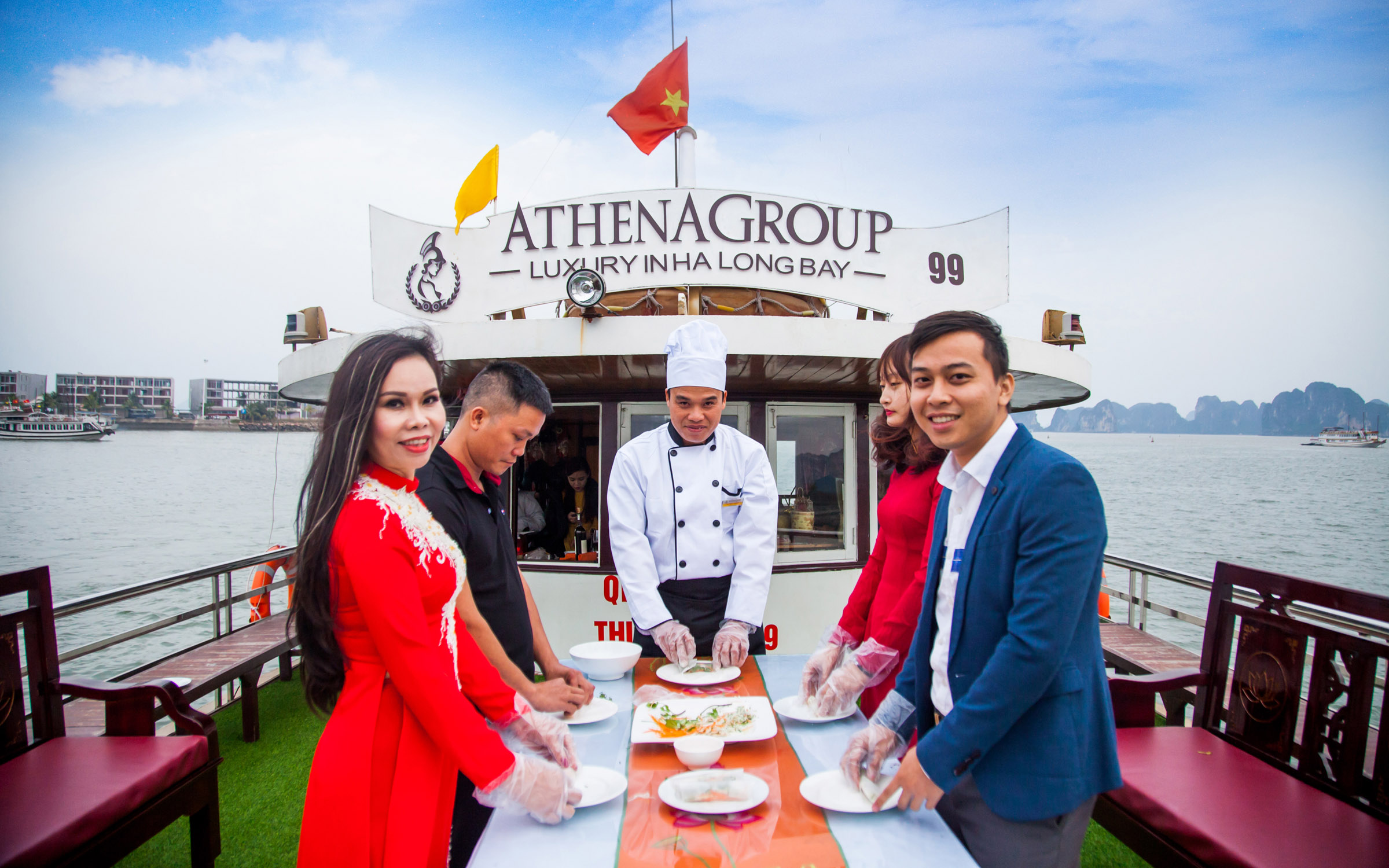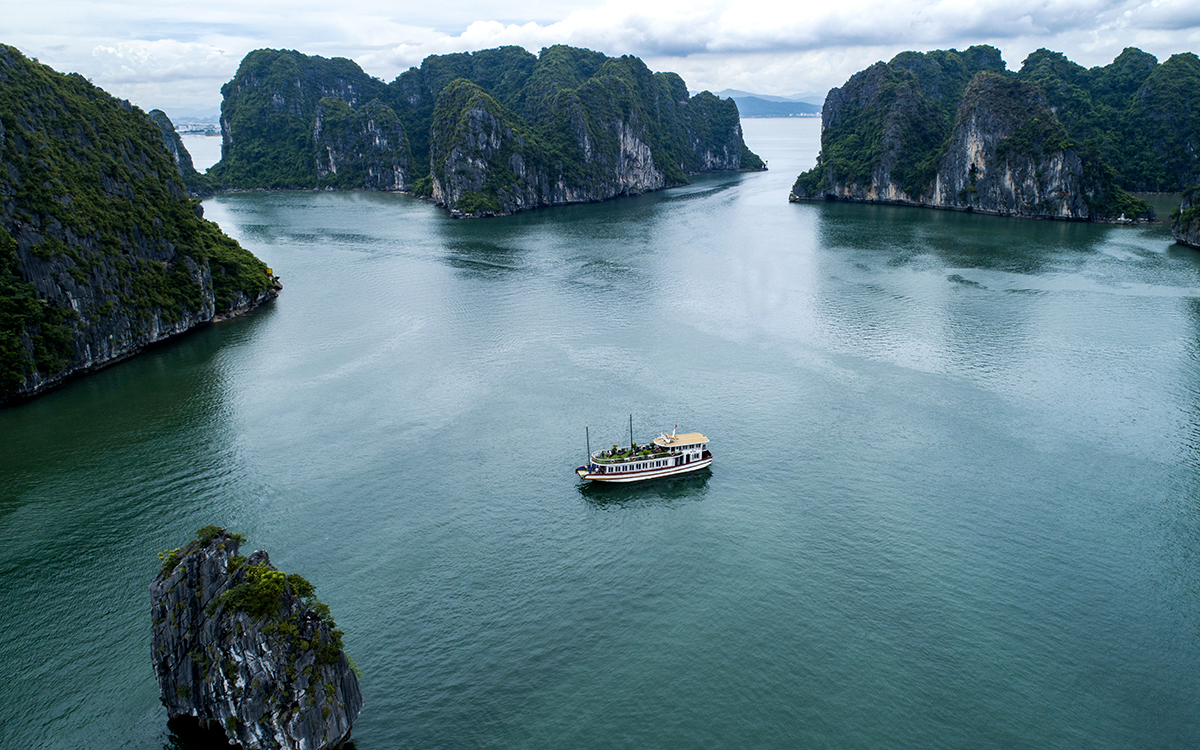 Welcome to Halong Sen Cruises.! - Halong bay Cruise - Halong Bay Tour
Contact us now to be part of Signature Journey.
➖➖➖➖➖
FREE CONSULTATION 24/7
☎ Tel: 024 39276999
Line Hotline: (+84) 96244 7486
🌏 Email: support@signaturehalongcruise.com
: Address: 4th Floor, No. 1 Dinh Le, Trang Tien Ward, Hoan Kiem District, Hanoi
📲 Website: signaturehalongcruise.com